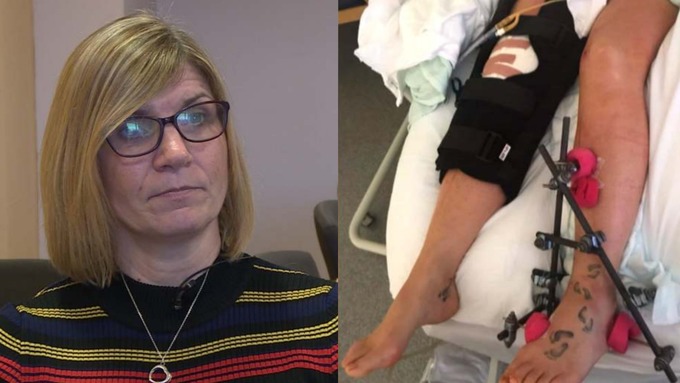 An 'inspirational' officer who was deliberately mown down by a man as she tried to get him out of his car has thanked Staffordshire Police Federation for their help as she recovers from the horrific incident.
Gurajdeep Malhi drove at PC Claire Bond as she attempted to arrest him in Stafford in September last year.
He was sentenced to 12 and nine months years in prison on Monday 2 September after pleading guilty to wounding PC Bond with grievous bodily harm with intent to resist arrest.
It's a sentence she and Staffordshire Police Federation hope will act as a deterrent to people who might think they can get away with assaulting officers.
PC Bond, a Staffordshire Police Federation Rep, ended up being trapped between Malhi's BMW and a garden fence and was dragged along the road before being flung to the ground. She suffered a broken left leg and a broken right knee.
"The incident has left me scarred emotionally and physically and I'm angry that he's put me in this position. I don't know whether I'll be able to return to frontline duties, let alone be able to run or walk correctly," she said.
She has gone through extensive surgery and physiotherapy since the incident. Hospital staff told her she was lucky to keep her left foot as it had been so badly damaged.
"The Federation have been great and very supportive," said PC Bond. "I had a beautiful hamper sent to me by John Apter, PFEW Chairman, and the Staffordshire Police Federation team were brilliant to me in hospital.
"It was practical things like sorting out the parking and the internet at the hospital. I was really impatient, and my focus was on just trying to get out and back to my children and they just took some of the worry away.
"The group insurance offered through the Federation has been great and they have helped me get into Harrogate (the Police Treatment Centres) and in getting me a solicitor."
She added: "That's why I became a Federation Rep to help officers understand what they are entitled to. It's not until you need the support that you realise everything they can do.
"I've still got things to do in the police and I still want to make my mark."
PC Bond hopes Malhi's sentence will send out a message to others.
"I've noticed the difference over my 18 years how people treat officers. Let's just hope this acts as a deterrent," she said.
It's a sentiment echoed by Staffordshire Police Federation Secretary Glyn Pattinson.
"Claire is such a wonderful family person, she's inspirational. She has been so complimentary to her colleague [PC Mullins] who dragged her out of the way as Malhi tried to reverse over her, it could have been so much worse.
"This is an important sentence and we hope it will send out the message that assaults on our officers won't be tolerated."