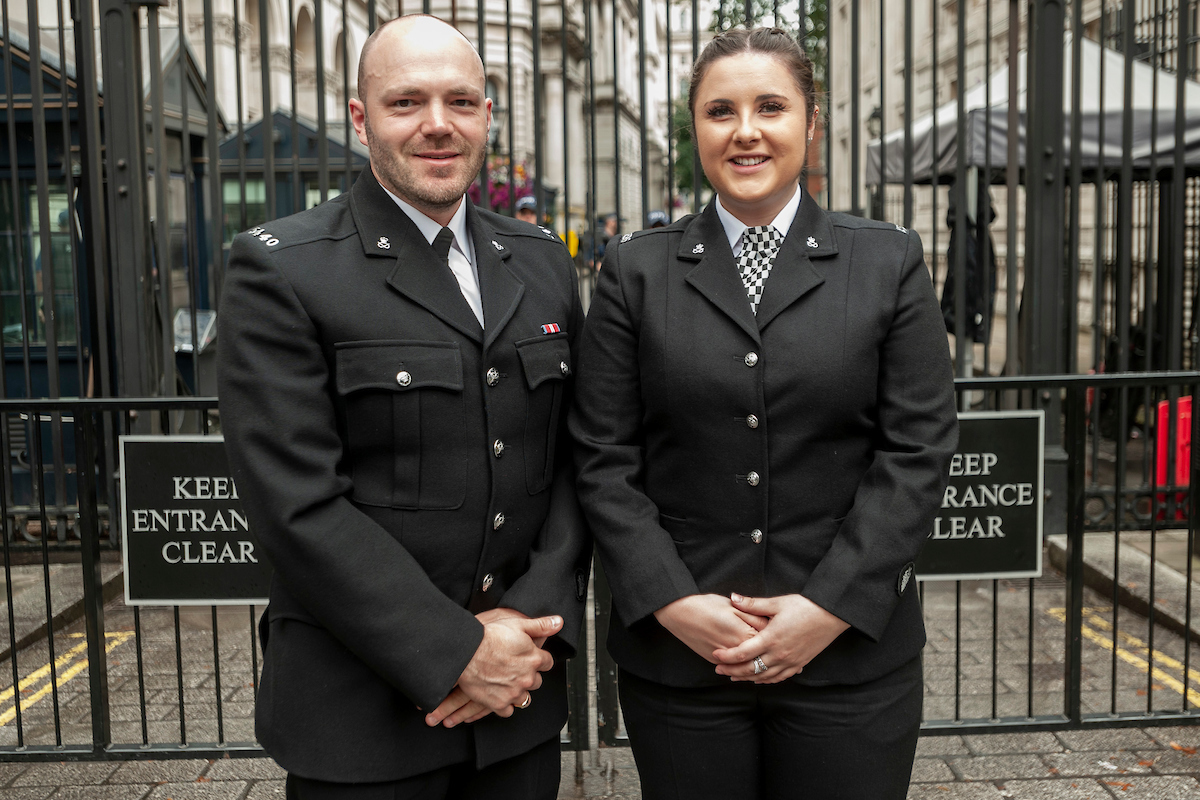 Two Staffordshire Police Officers who thwarted and detained a machete-wielding woman have been to Downing Street as part of The National Police Bravery Awards.
PC Katie Ratcliffe said "I'm really honoured to be nominated for this award. It's great to represent Staffordshire in such an iconic place."
PC Matt Salt added "It's a privilege to be down here, surrounded by all these other officers who have all done such heroic acts of bravery."
PC Katie Ratcliffe and PC Matthew Salt responded to several calls from the public alerting officers to that a heavily built, armed woman had been ranging around the housing estate in Stafford.
Armed response officers were initially tasked to attend the incident but as they were some distance from the scene, PC Ratcliffe and PC Salt decided to attend. Once they arrived, they were confronted by panicked members of the public who told them the woman was attempting to gain access to the property.
Both officers drew their Tasers in a bid to distract the aggressive woman who clearly presented a real threat to them both.
For PC Ratcliffe, it was the first time she had used it on duty, having only recently passed Taser training. The officers managed to put themselves between the woman and the crowd of people who had now gathered around them.
Appearing to have calmed down thanks to the efforts of the officers to defuse the situation, the woman then suddenly decided to pick up her weapons again and started to swing them at PC Salt.
PC Ratcliffe realised she had to intervene and bravely took up a position behind the would-be assailant. Despite repeated requests to drop the machetes, the woman refused to comply, so PC Ratcliffe was forced to deploy her Taser.
The woman was then handcuffed and detained.
It later transpired that the woman was military personnel and was trained in hand-to-hand combat. She had taken to the streets following a domestic disturbance.
Staffordshire Police Federation Chairman Keith Jarvis said PC Ratcliffe and PC Salt had shown incredible bravery to tackle the aggressive and dangerous woman.
"This was an incident which could very easily have got out of control. Both officers dealt with the situation in textbook fashion, and they displayed real professionalism to put themselves between the public and this woman.
"They are very deserving of this nomination and we are very proud of them."
The awards are sponsored by Police Mutual.